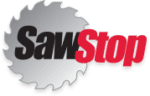 Long Business Description
What if you could stop a saw blade and prevent a serious injury? That sounds like a really good idea.
Today, that idea is protecting woodworkers in tens of thousands of SawStop table saws in North America and around the globe. We are proud to say that it was our idea, but we are most proud that woodworking is now safer.
Here at SawStop, we make table saws. Our saws, besides being the highest quality and best featured saws in their market segments, feature the ability to detect contact with skin and stop the blade in less than 5 milliseconds.
The SawStop story is about a small company with a big idea. The technology was invented by Dr. Steve Gass in 1999, and the business was started by Dr. Gass and three other friends.
In 2004 the first SawStop Table Saw was sold. In the years between then and now, our saws have saved thousands of fingers. The combination of safety, unparalleled design and craftsmanship has made SawStop the #1 cabinet saw in North America.
SawStop is a privately owned company based in Tualatin, Oregon, just south of Portland.
the remodeled hayloft of this barn was SawStop's first headquarters. We have since upgraded to a larger facility located in Tualatin, OR, just 30 minutes south of Portland.
The SawStop Dealer Network
SawStop saws are available to customers via our valued dealer network. This network is made up of over 350 dealer locations throughout the United States, Canada, Japan, South Korea, Taiwan (ROC), China (PRC), New Zealand, Australia, Brazil, South Africa and Kuwait.
These independent dealer locations vary widely in their size, scope and specialties. Some focus on hobbyist customers, while others specialize in industry or education clients. SawStop works closely with each dealer location to help ensure our brand is well represented and our customers' questions are answered. We are proud to say that SawStop is sold via the highest quality woodworking equipment dealers.
In the United States, certain SawStop saws and accessories are also available for purchase via our approved online dealers.
Send Message to listing owner