Long Business Description
WEIMA is known worldwide for its high standards when it comes to quality. Our shredders and briquette presses are steady, reliable, and economic—and in terms of innovation, we're constantly raising our standards. Those who order machines from us can rest assured that they're getting a custom-made solution of the highest quality.
Business Address
3678 Centre Cir, Fort Mill, SC
29715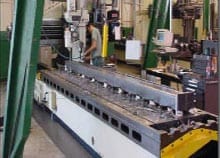 Long Business Description
Research and development is and always has been the heartbeat of any good company. Each year we reinvest significant amounts of money designing, building and testing, innovative machinery that help fabrication shops of all sizes find more efficiency and enjoyment from working with stone.
Every JMM product begins as an idea then travels the rigorous road of computer-aided design, modeling, durability trials, and finally in-field testing.
Only after successfully completing each of these steps confirming that the new process is truly superior to existing machines on the market does it earn the Johnson name.
Business Address
7325 Varna Ave. North Hollywood, CA 91605
91605